Telangana Engineers Day - July 11
When the whole nation is celebrating Engineers day on September 15 the newly formed state Telangana celebrate Engineers Day on July 11th, the birth day of Nawaz Jung Bahadur,son of soil and creator of projects like Osman Sagar, Nizam Sagar, Kadam project, Himayat Sagar, Wyra, Osmania University, Osmania Hospital and several other prestigious constructions that are iconic to Telangana till today. Telangana needs to celebrate his birth anniversary on July 11th for his contributions to Hyderabad, but converting the day to Engineers day is definitely an insult to Mokshagundam Viswaswarayya
Nawab Saheb was responsible for construction of several buildings and bridges including major bridges over the Godavari and the Manjira River. Extension of telephone service to the districts was due to his initiative. He was responsible for large irrigation projects viz., Wyra, Paler, the Fateh Nahar, and bridges. One of his prize design projects was the Nizamsagar dam.The Hyderabad House in Delhi was also designed and constructed under his supervision. The question of allocation of waters of the Tungabhadra and the Krishna was sorted out by Nawab Saheb between Madras and Hyderabad governments. His handling of the difficult problem was remarkable.
Have a look at Engineers Day date in other countries countries across world..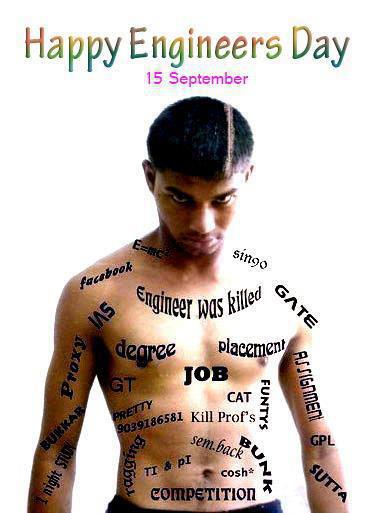 Entire India Celebrates Engineers Day on September 15 Every Year , Here is a look at Engineers Day 2014 Theme - Making Indian Engineering World-class
When the whole nation is celebrating Mokshagundam Visweswarayya birthday as Engineers day, and the combined state too celebrated it last time, which doesn't mean that he belongs to AP. Telangana needs to celebrate his birth anniversary on July 11th for his contributions to Hyderabad, but converting the day to Engineers day is definitely an insult to Mokshagundam Viswaswarayya
If the same happens with every state, Engineers's day too gets changed some day! .
Like us on Facebook ---------------------------------------------------------->>>---------------------------------------------------->>>>>
Click Here to Sent Engineers Day Greeting Cards to Your Friends
Also Read on Engineers Day 2014
Whats App Status and Images For Engineers Day 2014 (new)
Engineers Day SMS (Message you must sent to your Engineering Friends on this day)
Engineers Day Quotes (Favourite Quotes related to Engineering & Engineers Day)
Engineers Day Speech Samples (Speech you must prepare on Engineers Day)
How to Celebrate Engineers Day in Womens only Engineering Colleges?
111 Branches of Engineering in India with Seminar Topics
Also Keep in Mind:
Engineers Day across world Engineers Day in Iran on February 24 Engineers Day in Ireland on March 1 Engineers Day in Argentina on June 16 Engineers Day in Mexico on July 1 Engineers Day in Colombia on August 17 Engineers Day in India on September 15 Engineers Day in Uruguay on October 12 Engineers Day in Venezuela on October 28
Subscribe in a reader